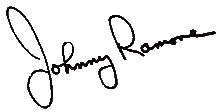 Chiller's long time friend Johnny Ramone has passed away after a five year fight with cancer. He was 55.

Johnny passed away peacefully in his sleep on Wednesday afternoon, September 15 at 3:00 p.m. west coast time. His wife Linda was at his side.

Johnny attended the first and every Chiller Theatre Expo after that, until he moved to California in the later part of the 90's.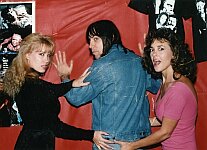 A friend of Chiller for over 13 years, Johnny showed his support for Chiller's own house band, the Dead Elvi by attending their first & second gig's back in 1994/95 at the Chiller Theatre expo in Secaucus, NJ.
Early this year I took a trip to California in January. I had the good fortune to visit with Johnny and hang out with him for the afternoon at his home in the Los Angeles hills. Hanging on the wall directly across from where we were sitting was the original "Abbott & Costello meet Frankenstein" insert poster that I had sold him back in 1991. It was like seeing another old friend again!
Johnny was in very good spirits that day and seemed to being doing well with his fight against cancer. We talked about movie posters, the Chiller Theatre Expo, and Zacherle the Cool Ghoul! A lot of people may not know it but Johnny was a big collector of horror movie original posters. This is how we first met back in the 1980's. Johnny loved talking about horror movies, Zacherle, and Chiller.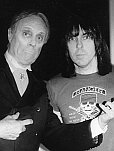 For all the years that I knew Johnny I had only asked him for his autograph once. It was on a picture of him and Zacherle from my very first convention! This is one of my coolest pieces in my collection.
It was a great afternoon catching up with each other and before I left Johnny gave me some current Ramones CD's and asked me if I wanted an autographed photo. Normally, I don't ask friends for autographs and feel funny doing so, but this time I said sure! He gave me a great live concert photo of himself and inscribed it to me with the words "Kevin - Gabba Gabba Hey! your pal," Johnny Ramone!
He certainly was a pal!
Rest In Peace Johnny!
Kevin Clement
Chiller Theatre
& the entire Chiller Staff
HOME