---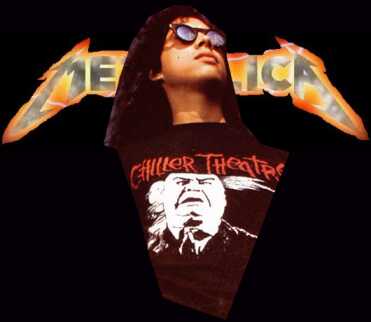 Special METALLICA related CHILLER facts...
At our first ever expo, Horror-thon '90, Metallica's Kirk Hammett dropped in to hang out for a while.

Metallica lead guitarist Kirk Hammett can be seen wearing our original first Chiller Theatre promo tee shirt in the "Last Caress" video in "A Year and a Half in the Life of METALLICA" documentary.

Kirk spent 5 hours at the old Chiller Theatre shop in Rutherford, N.J. filming a horror collectors segment with Mr. Chiller for the same documentary. The only footage used was 5 seconds of Kirk peering into a display case with our Aurora Big Frankie model kit near the end of the documentary. The rest of the Chiller footage was scraped and replaced at the last minute with James Hetfield, showing when he was accidently set on fire on stage in Canada.

Our credits at the end of the documentary read ... special thanks to Chillin' Theatre / Carlstadt, N.J.

Our first convention tee shirt can be seen worn by Kirk in some Metallica promos and live videos and photos from the "Black" album sessions and tour.

Chiller Theatre founder Kevin Clement plays Kirk Hammett's '69 Fretless Les Paul Gibson guitar on the first Dead Elvi album "GRAVELAND". This guitar was used on the entire "And Justice For All" tour by Kirk!

For the second Dead Elvi album "Buddy Bought The Farm" Kevin used Kirk's 1960 Crimson Les Paul Gibson. Both guitars were gifts from Kirk!

Most people don't know that as the end credits role on the first Chiller Expo documentary "Zacherle Live at Horror-thon 90', the mellow acoustic musical track playing was performed by Kirk. The song is credited on the video by K.H. & K.C.

In the Official Metallica 1990-1991 Calender, Kirk can be seen wearing his Tor Johnson Chiller Theatre t-shirt on both the January & April 1991 calendar pages.
Home
Congratulations! You found one of many easter eggs scattered
throughout the site! Pssstt... don't tell anyone! Our little secret!