---
We'd like to thank everyone who entered
a model kit or art work! Thank you for
participating and allowing us to show off your talent!

---
Running the contest were the 'Hole in the Wall' Gang:
Dave Wuethrich, Scotty Mills, Bernie Clark, & Alina Chu!


---
Sponsors providing the kit prizes:
Thank you!
---
The Judges this year were:
Terry Webb, Ed Bowkley & Scott Mills
Art Contest Judge: Joel Robinson
---
"GRAND POO-PAH Award"
(What Kevin Clement likes the best!)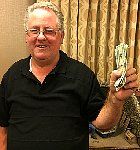 The winner of the cash
prize this year was
'Dragonslayer'
by Ken Hunt!
---
Judge's Best & People's Choice
Al Warner
Michonne and
Minions
---
FIGURES
1st Place
Ken Hunt
Bigfoot
2nd Place
Jon Carroll
Steampunk Girl
3rd Place
Joe Matthews
Rodan
---
SCRATCHBUILT
1st Place
Robert Gaito
The Mandrill
2nd Place
John Broker
Frankenstein
3rd Place
Ed Frischkorn
The Awakening
---
DIORAMA
1st Place
Ken Hunt
Dragonslayer
2nd Place
Al Warner
The Honeymooners
3rd Place
Al Warner
Mears Revenge
---
HARDWARE/VEHICLE
1st Place
Ian Williams
The Galleon
2nd Place
Russell Anderson
Space Pod
3rd Place
Russell Anderson
Space1999 Eagle
---
ART WORK

1st Place
Caitlin Roberti
Big Bad Werewolf
1st Place
Caitlin Roberti
Sweeney Silhouette
1st Place
Alexandra Wuethrich
The Creature
1st Place
Keith Shepard
The Bride
2nd Place
Len Danovich
Devil Girl
3rd Place
Keith Shepard
The Monster