---
We'd like to thank everyone who entered a model kit or painting!
---
Running the contest were the 'Hole in the Wall' Gang:
Buc Wheat, Scotty Mills, Dave Wuethrich & Alina Chu!
---
Sponsors providing the kit prizes:
---
The Judges this year were:
Terry Webb, Ed Bowkley & Scott Mills
Art Contest Judge: Daniel Horne
---
"GRAND POO-PAH Award"
(The kit Kevin Clement likes the best!)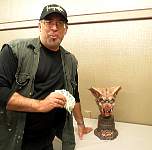 The winner of the cash
prize this year was
'WereBat'
by Robert Gaito!
---
Judge's Best & People's Choice
Danny Salcines
A&C Wolfman
---
YOUTH

1st & 2nd Place
Kayla Bouvier
Relic Beast & NJ Zombie