---
Had a blast! Great seeing everyone!
We had a new room, located on the second floor, this year...
across the hall from Joe's live bats!
We were nervious no one would know where we were,
but everyone found us in the end, so that turned out okay!
We had 45 kits and 13 pieces of artwork entered this year!
---
The 'Hole in the Wall' Gang running the contest, were:
Buc Wheat, Scotty Mills, David Malin,
Bernie Clark & Dave Wuethrich!
---
Sponsors:
Alternative Images
Amazing Figure Modeler
& Diceman Creations
---
The Judges this year were: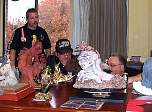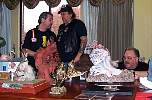 Terry Webb, Diceman, & David Skelley

Art Contest Judge: Stephen Blickenstaff