October 5-7, 2007
Hilton Parsippany, NJ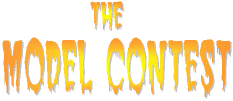 The 'Hole in the Wall' Gang staffing the room included:

Buc Wheat, Jason, Scotty Mills, Bernie Clark & Dave Wuethrich!!
---
The Judges this year were:

David Skelley, Terry Webb, Saul Alvarez, & Ed Bowkley!

Art Contest Judge: Ric Frane

---
"GRAND POO-PAH Award"

(The kit Kevin Clement likes the best!)

The winner this year was
''Mighty Joe Young''
by Joe Guaimano!
---
FIGURES
1st Place
Marc McLearen
Head Merchant
2nd Place
Bob Hardin
Aurora Gang
3rd Place
Bob Castillo
Kothoga



















---
DIORAMA's
1st Place
Robert Cardinal
Good,Bad&Ugly
2nd Place
Robert Cardinal
Resident Evil
3rd Place
Robert Cardinal
Rancor







---
HARDWARE / VEHICLES
1st Place
Robert Cardinal
ED 209
2nd Place
Melanie Laroque
Panther in Snow
3rd Place
Russell Anderson
Air Wolf



---
SCRATCHBUILT
1st Place
Joe Guaimano
Mighty Joe Young
2nd Place
Giovanni Zorloza
Baphometus Demon
3rd Place
Jason Ong
Draco






---
YOUTH
1st Place
Chris Bouvier
Addams House
1st Place
Chris Bouvier
Cave Orc
1st Place
Kayla Bouvier
Podling
1st Place
Alexandra Wuethrich
Nosey





---
PROFESSIONAL & STAFF
1st Place
Alan Fariello
Corporate
Alliance
Tank
2nd Place
Alan Fariello
Shockwave
3rd Place
Alan Fariello
Talos










---
ART WORK
1st Place
Bob Hardin
Slot Car
Party
2nd Place
Bob Hardin
Gentleman's
Club
3rd Place
Michael Wilk
Self Portrait
Honorable Mention
Heather Hardin
Death Road









---
Judge's Best
Marc McLearen
Head Merchant


People's Choice
Marc McLearen
Head Merchant


---
Main Page
Guests
Dealer's